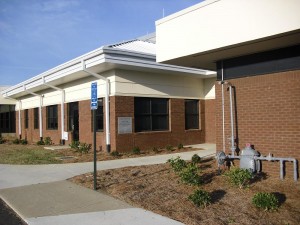 Facility Information
GPLN Tifton Lab
Located inside the Georgia Department of Agriculture facility
Physical Address:
3150 Highway 41 South
Tifton, GA 31794-8877
Phone: (678) 989-4100
Hours
By Appointment Only
Veterinarian
Dr. Emily Pittman
Veterinary Director South GA
On-Site Services
The laboratory facility has a receiving window, bacteriology lab and necropsy room.
Please call 678-989-4100 before dropping off birds for necropsy.
Directions:
I-75 Exit 59, east to red light (hwy 41), turn left (north) on Hwy 41, go half mile to Farmers Market Rd, turn left onto GDA/Farmers Market complex and follow the GPLN signs to Lab.
Holiday Hours
Closed: May 29th (Memorial Day)
Closed: July 4th (Independence Day)
Closed: September 4th (Labor Day)
Closed: November 23rd & 24th (Thanksgiving)
Closed: December 25th & 26th (Christmas)
Closed: January 1-2, 2024 (New Year's Holiday)